All skin types
Deodorant spray
This mild, effective deodorant keeps you feeling fresh for a long time. 100 % natural. The base consists of chinese green tea and it contains plant salts to fight unpleasant smells. The deodorant is also suitable for sensitive skin.
The deodorant is available in two fragrance, mild rose scent ond a fresh sport scent.
Size: 100 ml
It can also be used for the feet and other parts of the body.
Suitable as salt water spray for the hair.
Best in test Magazine Kurera 2014.
Camellia sinensis leaf extract* , Potassium alum, Glycerin*, PPG-1 Trideceth-13, Rosa damascena flower oil*, Sodium levulinate, Sodium anisate, Allantoin, Parfum, Aqua.
*Ingredient from organic farming according to EEC 834/2007 and USDA/FDA standard.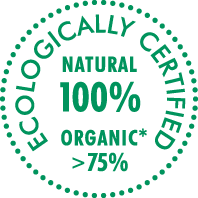 100 % natural and more than 75% organic certified ingredients.
100 % vegan.