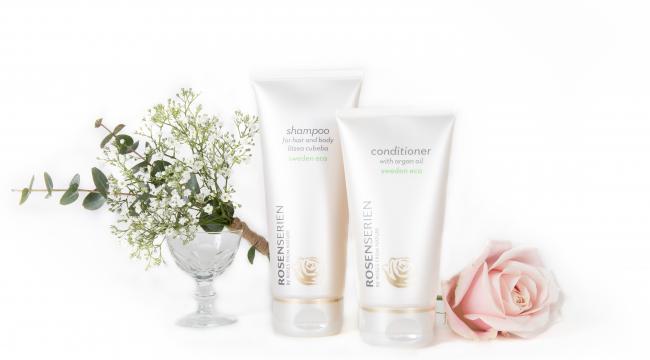 About Rosenserien
Rosenserien is a Swedish organic skincare line for the whole family. Our products are 100% natural and made primarily with certified organic ingredients. All production is in Sweden. It contains essential rose oil and the base is certified fair trade aloe vera, vegetable oils and green tea, making the products effective, gentle and long-lasting.
Swedish organic skin care for the whole family
The demand for natural and organic skin care and beauty products is rapidly increasing. This is not new to us. Already in the eighties our founder Laine Nilsson and Agneta Törnqvist created Rosenserien, as a natural alternative for sustainable skin care and beauty. We still develop and produce or products in accordance with the same philosophy based on high-quality natural and organic ingredients. Our business idea is still based on small scale production, which allows us to constantly monitor that the Rosenserien product range lives up to. We follow the same philosophy all the way, from selecting our organic ingredients to the careful preparation.
Rosenserien has grown into one of Sweden´s leading organic skincare brands and is sold by therapists, beauticians, health food stores and spas throughout Sweden.
Under the brand name Rosenserien we manufacture and market around 35 skincare and hair products for both face, body and hair, in consumer packaging. We also have special products for professionals (beauticians, spas etc) in salon packs.